December 16, 2003
Precious Booty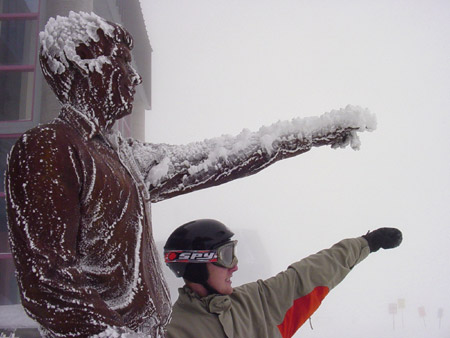 This is precious. This is perhaps the best thing I have seen on the web since the exploding whale video.
Ladies and gentlemen, I present to you OBJECTIVE: Christian Ministries… 4 KIDZ!
My OBJECTIVE is JUST 4 KIDZ! The "z" is for "zealousness," 'cause Jesus wants us to be hot for Him, not lukewarm. I read in the Bible that He said: ""As many as I love, I rebuke and chasten: be zealous therefore, and repent""… Let's do that!
Oh baby, let me tell you. Since experiencing the thrill and excitement of this page I have never been hotter for Jesus in my entire life. In fact, because of my newfound hotness for Jesus, my big red throbbing hotness for Jesus, I have printed out the Spiritual Safety Tip and posted it by our front door. Click on the goat head for valuable insight into the mind of an atheist, including a shout out to one of our beloved (and thus secular, godless and evil) authors.
Don't miss the Kidz Art Gallery, where you can see Professor Giraffenstein feed trees to T-Rex ("Just like Adam and Eve did!") and Jesus high-fiving a pirate (who, in his own throbbing hotness for Jesus, says the Son of God "tis the most precious booty of all!").
Having just finished Krakauer's "Under the Banner of Heaven" and being exposed to this site, I'm now going to take up religious zealotry as a hobby. How cool would "Zealot" look on a t-shirt? On a job application? On a business card?
More later. I've been busy partying over the capture of Saddam, jibbing rails on a snow skate, snowboarding in knee deep powder, interviewing for jobs, and teaching snowboarding lessons to kids who are slightly embarrassed to be associated with me.