December 25, 2003
Live with Orchestra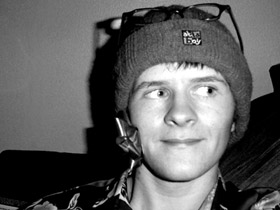 Christmas Day in Bend, Oregon. The chickadees are flittering outside my window and eating snowflakes. Last night we had Christmas dinner over at Shane and Erin's place, where we watched Oregon State drag New Mexico up and down The Strip. 55-14. Ouch, man. I'm not much of a football fan but I knows a whoopin' when I sees one. Our dinner was delicious, complete with a juicy turkey, real stuffing, homemade mashed potatoes and gravy, cranberry sauce still shaped like the tin can it schlooped from, frosted cookies shaped like stars and stockings and trees and candy canes, caramels, Mrs. Zenner's "Suicide" Syrup Brownies, triple chocolate marble fudge, Russian tea cakes, gingerbread men (and women), hot apple cider, and a Yule beer or two.
We didn't get around to opening presents until 10:00 or so, but we're young and fearless so that wasn't a worry. After I unwrapped a radio controlled Mini Cooper Shane ran out to the garage to build a race track out of cardboard boxes. I got a few cards and photographs from my family and they made me cry. Christmas without the family is no fun, no fun at all, but I keep on truckin' by embracing what surrounds me. I also know that there are millions of people in far less desirable conditions, who are fighting for my right to live free, whether I'm in Central Oregon, the Gorge, the North Shore or the Twin Cities.
And to all of them, and all of you, I wish a merry Christmas. Merry Christmas to everyone in Bend, all the workers and riders and skiiers at the Mountain. Merry Christmas to everyone in Hood River, all the windsurfers and kiteboarders at the ol' Bee Dub. Merry Christmas to Motoshi and Miho in New Zealand. Merry Christmas to the Portland Habi-Trail for Humanity crew. Merry Christmas to the Powder River sheep herder who I met on my cross-country drive last May. Merry Christmas to the North Dakota small-towner who handwrote my gas station receipt for $13.00 in super unleaded. Merry Christmas to the World's Largest Ball of Twine.
Merry Christmas to everyone from Ihduhapi, all the kids and counselors getting together tomorrow for Yukon Days. Merry Christmas to the kind folk at the UMD Statesman, especially the infamous Nial Pipslyrh, who published whatever the heck I wanted to write. Merry Christmas to all Woochers great and small, those who still trod the shores of Lake Superior and those who have scattered in the wild winds of the Universe.
Merry Christmas to music nerds, especially those who mix french horns and alt rock bands. Merry Christmas to nerds who notice that the Grinch's mouth looks like a talking cornicopia, and who stay up late trying win Bubble Bobble. Merry Christmas to geeks (who are different from nerds) who start their own proms, and especially those who streak them. Merry Christmas to all my college professors, those who keep a lump of coal on their desk, a humidifier in their office or Billy Bob Teeth in their mouth.
Merry Christmas to Samba Hood Rio, Spontaneous Combustion, Sunny Wicked, Indefinite Particle Article, Teague Alexy, Cowboy Curtis (I still need a copy of that new CD), Happy Apple (Mike Lewis, thanks for that saxophone lesson all those years back), UMD Jazz Combo Three, UMD Jazz Ensemble One, Chernobyl and Pamplemousse. Merry Christmas to Jack's, Pizza Luce, The Blue Max, Beaner's Central, The Norshor (sniff), the Weber Music Hall, the Marshall Performing Arts Center, Bo 90 and The Depot.
Merry Christmas to all my Hopkins fellows, those who mix audio with a kung-fu grip, those who mix music and mathemagic to the result of huge explosions, and those who will be pilots in a new century of discovery in avionics. Merry Christmas to all the band nerds, anyone that painted a fence, swung a hammer or pounded a nail for Pops, the cast and crew of Guys and Dolls, and all those who let me crash every single Fiddler on the Roof cast party.
Merry Christmas to all the DRCitizens who gasped in awe at the wisdom of Kentucky 12th Graders and Souht Carolina 6th Graders, who know fully well how the bree affects the lever, and are now dancing crazy with a bass guitar or teaching the Evil Imperialist Tongue to the Japanese.
Merry Christmas to the Blogosphere, everyone who oils the dirty gears that keep this thing called Internet running, and everyone who produces stuff to make it worth keeping around.
Most of all, Merry Christmas to all family and friends, both near and far. Nothing would be possible without you.