April 29, 2005
YAAAARRRGGG!!!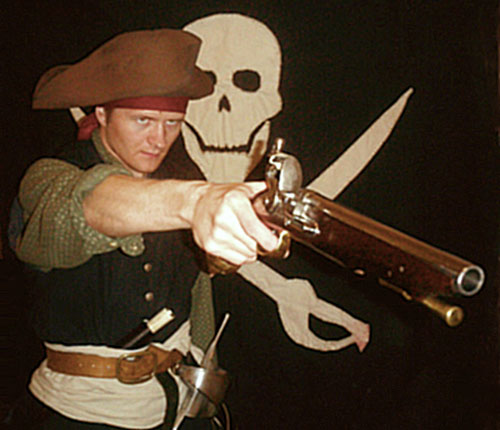 For the last few months we've been cookin' something in the back room, and I think that this project is finally far enough along (by which I mean 99.9% complete) to announce it.
Captain Jack's Pirate Hats is an outfit run by my friend/co-worker/client Jeff MacKay. The MacKay makes the finest pirate hats I've ever seen, and he does each one of them by hand. He makes every attempt to be as true to the era as possible, constructing his hats out of wool felt and coating them with an oil/wax treatment to stave off the angry seas. The results are stunning and incredibly authentic, as you can see in his updated gallery.
The MacKay's passion for pirates is unmatched, and his love definitely finds its way into his work. He's very well-researched and knows more about pirates than anyone I know. His car has a giant skull and crossbones across the hood, with customized pirate license plates and everything. As you could have guessed, he loves the movie Pirates of the Caribbean as well. Do you see that picture of Johnny Depp on his home page? Look closer. That's not Depp at all, but MacKay in his Captain Jack Sparrow costume, accurate right down to the compass and belt buckle. The likeness is staggering.
You can grab a Captain Jack hat of your own, or choose from eight other available styles. Don't see what you want? The MacKay also does custom hat orders. As for myself, I'll be sporting my pirate hat while guiding canoe trips in the BWCA this summer. Keep an eye out. I'll be the one leaping into other people's canoes and stealing their gear.